Aalten, December 2020:  "Dibella up" is bearing its first fruits. Since the launch of the recycling concept initiated in August 2020, six tons of sorted laundry items have already been returned to Dibella and converted into new ones by the company in farsighted reuse projects. The customer who has been involved in the project from the very beginning is Lamme Textielbeheer from Nederhorst den Berg. The Dutch textile service provider sees the initiative as an important measure for more appreciation of resources.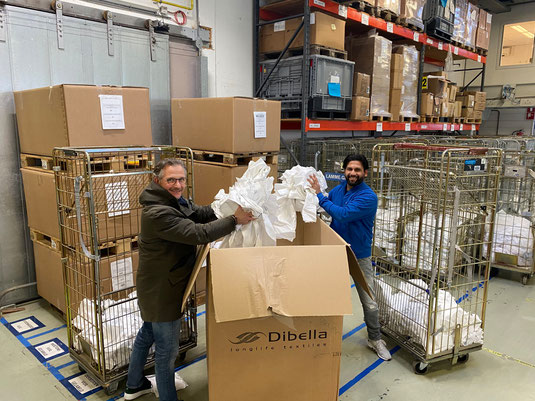 Dibella has taken the closed-loop approach of the textile service as a model and has taken a step towards a completely closed cycle with the "Dibella up" project. The system includes unlimited reuse and recycling of the fibre raw materials bound in the textiles. To this end, the company's own textile qualities, which are selected from laundries, are taken back and passed on to selected upcycling projects. Polyester-cotton blended fabrics are processed there into high-quality bags. Pure natural fibre textiles as well as blended fabrics with at least 50 percent cotton are chemically converted into an important raw material for cellulose fibre production, while the remaining polyester is still being thermally recycled for technical reasons.
Six tons of laundry from the Netherlands
Lamme Textielbeheer was immediately enthusiastic about the "Dibella up" initiative. The committed company has been involved in various Dibella sustainability projects for many years and recognises the future-oriented character of the new project. "Our will to cooperate was immediately clear after Dibella's managing director Ralf Hellmann presented the upcycling project, because we see it as an important measure for the prudent use of resources," reports Jan Lamme, managing director of the company of the same name. "Within a very short period of time, we therefore jointly started to take back our discarded, no longer usable old textiles. In this way, we have already been able to return six tonnes of laundry for a new product cycle. This corresponds exactly to our idea of upcycling!". "Dibella provides stable, reusable cartons for shipping," says a delighted Frank David, Lamme's Assistant Operations Manager. "This makes collection much easier for us and we don't have to take any means of transport out of our laundry". 
Prepared for the mega-trend of recycling management
Dibella would like to build on the initial joint success and further expand the initiative for a closed textile cycle in the industry. "The awareness of sustainability is high in the textile rental service. But the next mega-trend is already emerging. The future lies in closed-loop recycling. With "Dibella up", we are offering our customers the opportunity to get involved now and make resources usable in the long term. We are happy about every new cooperation partner who appreciates the value of textiles as much as we do".
---
About Dibella
Dibella is a competent partner for the textiles rental service for long-lasting textiles used in the hotel industry, catering trade and in the healthcare. The service-oriented company has been supplying the branch since 1986 with exclusive, appropriate goods. Thanks to solid growth, Dibella today is represented in the most important markets in Europe over international offices.
Dibella has been engaged for years now in sustainably production to protect people and the environment. Membership of numerous organisations is an expression of this engagement.
About Lamme Textile Management
Welcome to Lamme Textielbeheer, the total solution provider for all your textile needs. We offer our customers in the airline, hotel | restaurant | hospitality & catering, healthcare and public sectors a Spotless service. This is based on 5 principles: providing an Immaculate and up-to-date textile package, reliable deliveries, sustainable (cost) solutions, personal attention and clear communication.