Bocholt/Miami Beach, June 2023: Dibella presents itself for the first time at the Cruise Ship Interiours Expo in the United States
Our trade fair premiere at the Cruise Ship Interior Expo in Miami was an exciting and successful event. Our sales representatives Marvin Groß-Hardt and Johanna Groß-Holtwick travelled to Miami Beach, Florida from 6 to 7 June.
After arriving at Miami airport, they went directly to the hotel in a classic American taxi. The fair took place in the Miami Beach Convention Center - so the two of them were able to take a look at the fascinating surroundings during a short walk.
Once they arrived at the fair, the stand was handed over to them. The practical implementation of what had previously only been seen in the planning on the computer was impressive.
A successful premiere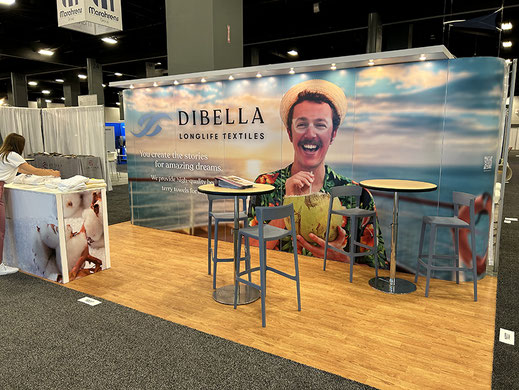 Since Dibella is not yet represented on the American market, we deliberately chose a motif that was intended to attract attention with a wink of the eye and refrained from showing textiles. It was important for us to get into conversation with the fair visitors. The Dibella team was enthusiastic, also about the smooth process with the stand builder on site. After placing the samples and a few final corrective touches, the stand was ready for the start of the fair the next morning.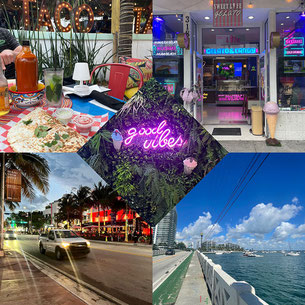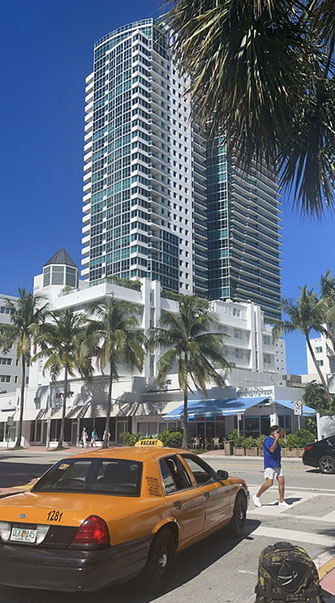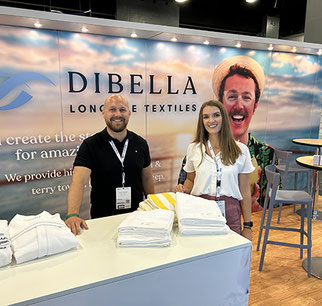 After the trade fair appointment, the guests went straight to the pre-opening party, where they were able to make their first contacts while enjoying delicious cocktails and interesting conversations. On the two following days of the fair, there were then plenty of excellent opportunities for exciting conversations with decision-makers from the cruise industry, designers, architects and hotel representatives. A very interesting mix of the audience! In addition, the fair offered an extensive supporting programme with lectures and networking events.
On the evening of the second day, we returned home with many new impressions and a very positive summary of this fascinating market. This trade fair premiere was a complete success for us and an excellent opportunity to make initial contacts and get to know the industry. We are excited about the opportunities this market offers us and are already looking forward to future events and projects. A stand for next year has already been booked!