Aalten, September 2022: The GoodTextiles Foundation, initiated by Dibella, has implemented a new support project in India: Each family of a small village community of organic farmers received a cow from the donations received. The herd of fifty animals helps with farming, gives milk, produces sufficient natural fertilizer and should soon provide higher crop yields and a better income.
In 2016, Dibella established the GoodTextiles Foundation with the aim of making textile value chains more sustainable. It raises funds and implements its own support projects to benefit people at all stages of the textile economy. The most recent project, "One cow for every family," has now taken the first, important intermediate step: Fifty cows arrived in the small village of Aliguda Village (Utnoor Division, Adilabad, Telangana, India) at the beginning of June 2022.
Problem identified, problem solved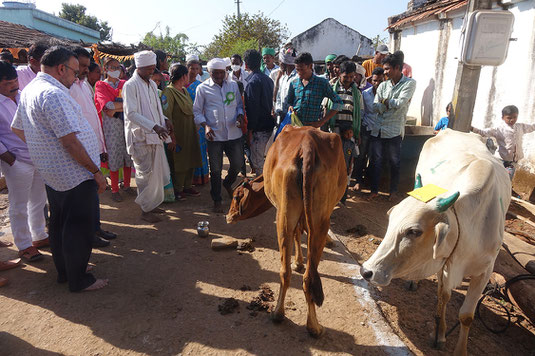 "Some of our organic cotton is grown on the farms of the village community managed by the smallholder organization Chetna Organic. During the filming of the German documentary "plan b", the farmers told us that they need more natural fertilizer to cultivate their fields ecologically and economically. The biggest wish of each family is therefore a cow. However, they cannot afford this because of the high price of the equivalent of 300 euros. That's how the idea for our next sponsorship project was born," reports Ralf Hellmann, managing director of Dibella and member of the foundation's board of directors. 
The fifty cows donated by the GoodTextiles Foundation are received with great respect in Aliguda Village. In the future, they will contribute to a more sustainable income in each smallholder family  (Photo: Chetna Organic)
To each his own
On the advice of Chetna Organic, the foundation's advisory board refrained from buying a smaller herd for all the villagers and decided instead to purchase a cow for each family and draw lots for them among the residents. "Sharing the animals would have unnecessarily caused trouble and unrest in the small village, where everyone depends on each other," says Ralf Hellmann. "Now, each individual cow gives the fifty small farmers of Aliguda Village the opportunity to optimally integrate them into their own family business."
Cattle with sustainable benefits
In addition to the most important reason for purchase - the production of fertilizer - the cows also serve as livestock. They are harnessed in front of the plow and make the strenuous work of tilling the soil easier for the farmers. As draft animals they serve to transport heavier loads, and as milk suppliers they contribute to a family's food supply. Surplus milk that is not needed in the household also provides families with an important additional income through sale.
Ralf Hellmann: "The great success of the project in Aliguda Village, which is already foreseeable, therefore spurs us at the GoodTextiles Foundation on to expand the project to other villages. For the benefit of those who grow our organic cotton, we are therefore delighted to receive any further monetary donations."
Contact
For further information, please contact:
GoodTextiles Foundation
Frau Michaela Gnass
Hamelandroute 90
7121 JC Aalten, Niederlande
Fon +49-(0) 2871-219863
E-Mail: info@goodtextiles.org