Bocholt, August 2020: Dibella's commitment to sustainability enters the next phase with "Dibella up": The company takes back textiles sorted out by customers and recycles the raw materials bound in them using a unique closed-loop concept. This takes into account the company's various product qualities with adequate processes and thus for the first time offers an adequate solution for the endless use of precious resources.
Thanks to their longevity, Dibella's contract textiles have always fulfilled the basic principles of a resource-conserving cycle management: They are tailored to the requirements of textile service and outlast countless care cycles in the industry. "Until now, however, reuse has ended with the customer having to take out textiles that can no longer be used," says Ralf Hellmann, Managing Director of Dibella. "Our long-term goal, however, is a complete, closed cycle for professional textile applications. We want to reuse the once used, precious raw materials and return them to the textile chain. With "Dibella up" our vision has now become reality. As the first industry supplier, we can offer our customers a sustainable solution for a completely closed system of recycling.
---
Adequate recycling systems
"Dibella up" is a product-specific up- and recycling system for the core qualities of the company and is designed for an optimal resource utilization of the ingredients. For textiles made of pure cotton, for cotton-strong blended fabrics and for blended fabrics with a balanced proportion of cotton and polyester, the company offers two established recycling processes:
Pure natural fiber textiles, but also blended fabrics with at least 50 percent cotton, are chemically converted into an important raw material for cellulose fiber production; the remaining polyester is thermally recycled for technical reasons
Alternatively, polyester-cotton-blended fabrics go into up-cycling and are processed into high-quality bags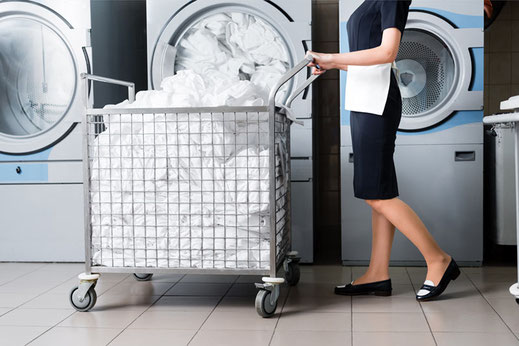 ---
A fiber becomes a fiber becomes a fiber
A third recycling process is currently undergoing technical testing. "Worn again" is intended to give every contract textile, regardless of its composition, a new "fiber life". This pioneering innovation is based on a chemical process that for the first time enables the complete recycling of cotton and blends with polyester. "This groundbreaking option gives us the opportunity to finally round off our concept of responsible, resource- and climate-friendly textile production and to realize textile recycling in our industry," says a delighted Ralf Hellmann. "We will soon provide up-to-date information and news on the further development of this and other projects on the specially created website www.dibellaup.de."